Constellation Consulting, LLC is proud to support a variety of organizations through charitable giving and volunteer involvement.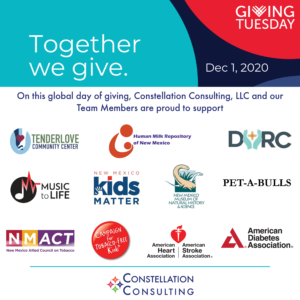 During #GivingTuesday2020, Constellation and our Team Members supported organizations like the Human Milk Repository of New Mexico, Tenderlove Community Center, Pet-A-Bulls, and more.
To submit a request for cash or in-kind sponsorship or support for your organization, please email your request to suzanne@constellationnm.com.